I was really looking forward to this meet as it was my first since 1985! The launch took place on an open field at HW56 north/west of Tampa, Florida and was scheduled for 10am. I came down from Ocala and had my Estes Wacky Wiggler and Fat Boy along. Finding the launch area was simple and as it turned out, although I had the furthest drive, I was there first and actually begann to wonder if I might be at the wrong launch site. Aprox. 20 min. later the first rocketeers started showing up.
Below the launch site. As you can see it was quiet windy and I actually had thought we wouldn't be flying anything. Fortunately I was completely wrong.
Jason was quickly up and at it preparing his Super Big Bertha for launch. Also in the picture is a nice Mercury Redstone waiting for it's count down.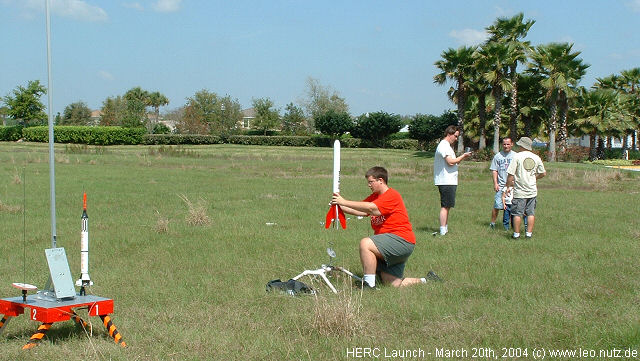 Here the Super Big Bertha taking off into the floridian sky.
I brought along my Fat Boy and wasn't sure how it would do on it's maiden flight in the strong winds. I used C6-3 engines and to my surprise all flights went perfectly. I have to say I really like the Fat Boy.
3.. 2.. 1.. takeoff!

I wasn't the only one that had a Fat Boy at the meet. Here Pat's version.
Rocketry isn't just a boys thing because these girls had lotsa fun launching them rockets too.
Mike preparing his 2 stage rocket for flight. Liftoff and stage separation was flawless. This is probably one of my first experiences seeing a multi stage rocket in flight.
Joe had brought along some high power rockets and let me tell you they were beauties! The finish on them things was excellent!
Here he is preparing his LOC/Precision 4-29SS that holds 4 E9-6s.
Liftoff was a beaut as the rocket screamed off the launch pad!
Another one of Joe's high power rockets taking to the sky. Great to watch!
This beautiful blue painted rocket uses an Aerotech G80-7T and was ready for flight.
Unfortunately things don't always go the way they should.
Our man Eugenio is preparing his cloned Estes Patriot for flight. This is one of the less dramatic flights Eugenio would experience on this day.
And this is what happens when everything comes together. I just LOVE this picture! So cool...
Next up was Eugenio's diesel powered (just kidding) AT Mustang and would be one of many bad luck flights. We all felt really sorry for the guy but he took it in great strides. He did manage to recover the rocket out of the water and I think it didn't take any damage.
Here a helping hand from yours truly. Now just imagine....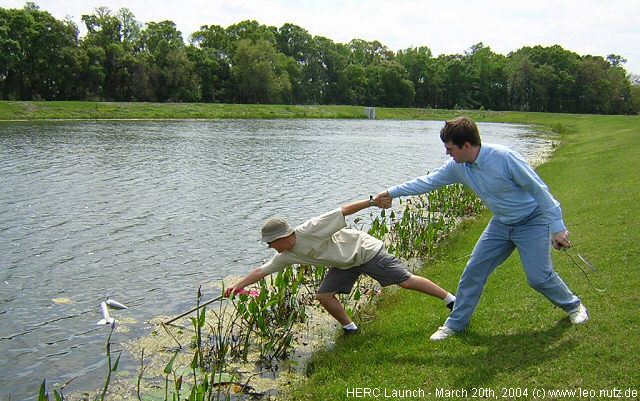 Eugenio shows off his beautiful made 2.6x Upscale Bullpup.
Hooking up the igniter. The rocket was powered by an G64-7W.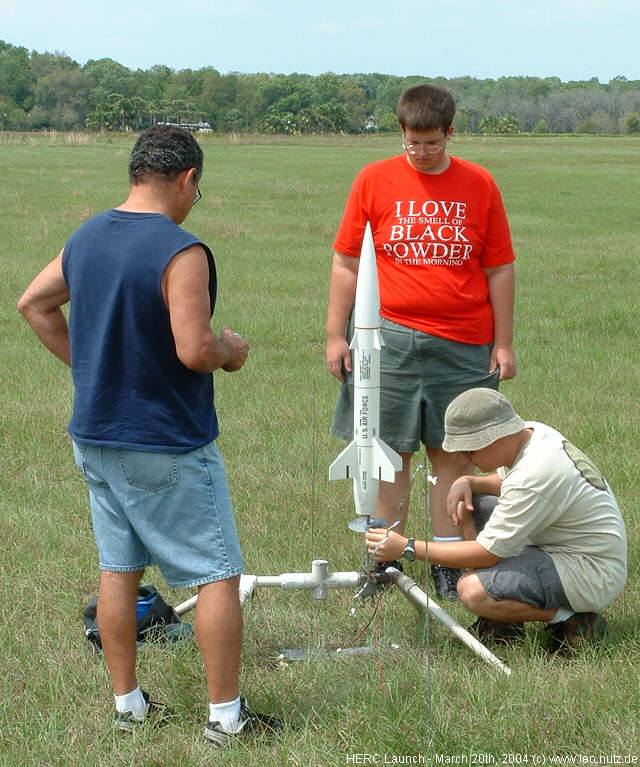 Well, the rocket didn't find any water to land in but rather a ROCKET EATING tree instead. His friend gave it all to retrieve the rocket. Luckily he got the rocket down in one piece without any damage. As you can see in the picture another one relieved happy camper

It didn't stop there.
Here
a video of another flight that had gone sour :-( Check out the comments from the guys at the field :-/
After all the bad luck Eugenio has been having he decided to go it safe and take out his Estes Snitch. Nothing can go wrong with that baby right? Well, it did fly as it was supposed to but the engine (Quest C6-0) had an ejection charge even though it shouldn't have. We had our laugh.
At about 2pm we decided to call it a day as many of us were craving for food. Most headed out to Chili's Grill & Bar, talked some and reflected on the days happenings. I enjoyed the conversations immensly.
I had a great day and it was wonderful meeting all the very nice people! Thanks to Eugenio for the excellent organisation! I can't wait to be part of the gang on the next launch meet. I'm really looking forward to that.
Hope you enjoyed the little report.
Leo