On the 15th June 2002, I was invited for an "M" gathering in Switzerland. This was to be my first trip to meet other "M" fanatics. It was also my first encounter driving Swiss mountain passes hard - I mean real hard! Andreas was also in for the fun :-)

Below are some pictures I took whilst we were speeding thru the wonderful countryside.

Enjoy.

///Leo
The following report is from Andreas aka M3Maniac who also attended the meet. Enjoy!

After a rather unpleasant trip with a nasty traffic jam in Zurich, Leo and I eventually arrived at the meeting point (Gotthard Raststätte) to find the others already waiting for us *shame*. We were about 40 minutes late (ca. 12.40). However, at least our fellow "M" enthusiasts had time enough for a good car gathering in the meantime ;-)

So, what cars have we got here?
4 BMW E46 M3's, 3 with SMG II and 1 manual
2 BMW E36 M3's, 1 with 286 hp (manual) and 1 with 321 hp, SMG I
1 BMW M Coupé with 321 hp
1 BMW M Roadster with 321 hp
Interestingly enough 3 of the 4 E46 M3's are steel gray... and only Leo's car is Carbon black. Usually silver and Carbon black are the mainstream colors - but not this time :-D two of the 3 steel gray M3's look almost the same. They're so close (same wheels, both dark interior), that Dr. Nagano entered at least twice the wrong car this day *LOL*. Luckily I have different wheels on mine and the Imolared interior which saved me ;-)

OK, the excitement is on ! Great weather, 8 die-hard enthusiasts, 8 fantastic cars and some of the greatest roads ahead of us !!!

From the meeting point we made our way to the Sustenpass. The countryside is getting more and more exciting ! The roads are already very nice with loads of turns and surprisingly little traffic. Leo took these pictures while driving behind Roger in his cool modified M Coupé. This car has an extremely stiff and very low KW setup (suspension) and huge BBS LM rims. Moreover it has a small and thick racing steering wheel. Leo told me that it was an attraction to drive behind this car ! Roger is a superb driver with some racing licenses. The perfectly controlled "donuts" he performed on the sustenpass parking were outstanding.

Leo had a hard time to hang with Roger and his M Coupé.

Beautiful countryside on the way to the Sustenpass.

Sustenpass 2'240 meters above sea level - first stop. The "donut" parking (-->Roger) ;-)
Like a bunch of children in a candy store we discuss the first of our 4 pass roads on this beautiful sunny day. It was an exciting first take and as we are hungry we go to the nearby restaurant for a break and some food.

As you can see, there's still a considerable lot of snow in the Swiss central Alps. Only 2-3 weeks ago, all those pass roads were closed because of heavy snowfall. Yep... and on this day we had hot and sunny weather :-)

Next stop in Innerkirch between the Sustenpass and the Grimselpass. Very hot place here ! No wind at all...

Unfortunately Roger leaves us already with his M Coupé. It would have been a pleasure if we had seen more of his skills :-(

As we were standing there, a police car passed us and all of us were sort of pi**ed off because we knew that he will be waiting for us somewhere :-/
Nonetheless, the Grimselpass was calling for us and therefore we took off for this one ! It was unbelievable - we had NO TRAFFIC !! And I mean it... after we passed one single bus, there was not one car all the way up to the Grimsel !! It was even worse now that the police was waiting for us somewhere in the mountain :-((

But let me tell you: IT WAS PURE EXCITEMENT as we demanded everything from the cars on this great road with countless curves :-D

Shaking all over we stopped some Km's away from the high of the Grimselpass. With a grin on our faces we noticed that we totally blocked the road to the Grimsel-Hospitz. But honestly we didn't care too much as there was anyway no traffic and it was time to take some pictures.

Oh... btw: in the picture below we see Dr. Nagano open the door of his own car !! A rare sight on this day ;-)

In the second picture you can see where the road was leading us - up the mountain, up to the sky, over the Grimselpass towards Gletsch on the other side of the mountain.

A word for what goes for downhill driving ;-) : as we were pushing our cars hard on the way down to Gletsch, we expected to get hot brakes. And yes, they were hot indeed (mine turned slightly blue)... however, some got even hotter. Leo's brakes smoked furiously when we stopped in the valley *LOL* :-) Very good fun, Leo ! ;-)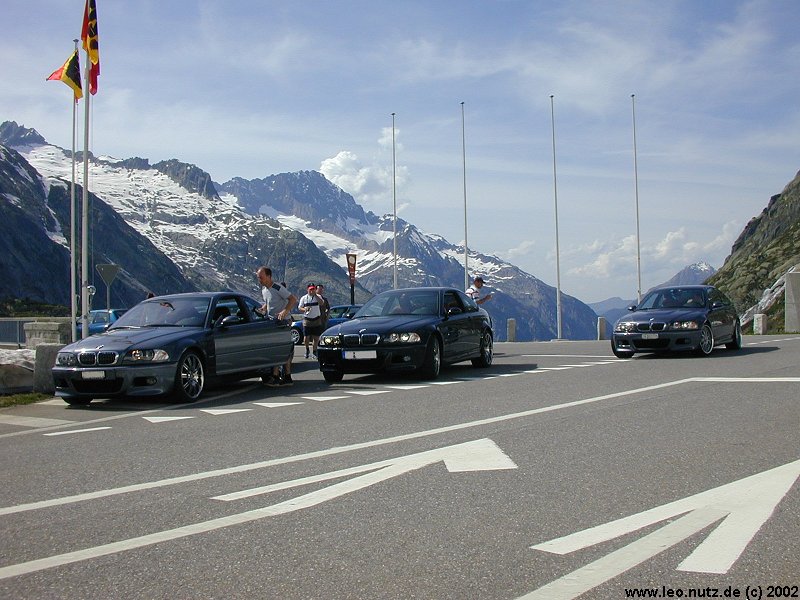 Just to show you how it was all day: beautiful countryside, fantastic roads and NO traffic :-D

The pictures displays a short part the Grimselpass.

As we were properly warmed up now ;-) , we took on the most extreme of the 4 pass roads that we had planned for this day: the Nufenen. With 2'478 m above sea level on the road, the Nufenenpass is the highest in the central Alps. A steep road with many vicious sharp curves and sometimes uneven surface (don't forget the water on the road which was coming from the snow...) makes this road a challenge for man and machine ! Huge Snow walls in the last part of the road give the driver a feeling as if he was driving up a bob run - crazy and very unique !! One could really feel how the car was losing power in the highland how the suspension was fighting the difficult track. In one word, it was OUTSTANDING!

This picture was taken on the Nufenen and you can see that there are still meters of snow... this might give you an idea how it was to drive uphill on this pass :-)

In front of this breathtaking view on the Alps we had of course to arrange a line-up. 7 hot BMW's in front of +4'200m mountains ! Unforgettable...

No further words needed here... enjoy ;-)

Time for a group picture before we continue the journey... that's the "M" gang :-) It was endless fun, guys ! Let's do it again sometimes soon.

Yes, there wasn't much traffic ! However, there was another member of the "family" that we met on the Nufenen: a silver BMW Z8 :-)

When we completed the photo shooting it was already around 7 p.m. and the air on the Nufenen was getting colder and therefore we accessed the cars and made our way downhill heading for Airolo in the beautiful Ticino.

The road through the Valley Bedretto coming down from the Nufenen was like a dream. On the next picture you can see the road coming from the Valley climbing up the mountain like a giant snake... and again... no other cars ! It was all ours... and so we were driving through the Valley Bedretto at very high speed [officially: slightly more than 80 Km/h :-)] in the intense light of the setting sun. It was like magic!

As you can see Leo stopped occasionally in order to take pictures of his car... might be the reason why we had to wait quite a moment for him in Airolo ;-)

In Airolo we stopped again and Leo made a video clip of Dr. Nagano's Supersprint exhaust on his E46 M3. 5 of us decided to drive over the Gotthardpass on our way back to Zurich. MillM3 und Rocko decided because of the late hour to go through the mountain (+17 Km Gotthard tunnel).

So, the rest of us went to Airolo looking for a petrol station. after that, we took on the last pass road on our journey: the Gotthardpass uphill driving on the Ticiono side. The lower part (old part) of the pass road is a very uneven and slippery cobbled pavement road which made the DSC blinking all the time [unless you switch it off of course ;-)]. Nonetheless, we pushed real hard and it was a good place to experience what the M3's (and M Roadster's) suspension is capable of ! In the sharp hairpin turns I even tried to downshift into 1st gear (with SMG II) with Dr. Nagano right behind me :-) . It worked very well ! However, I had to be very quick because at this speed in 1st gear I was immediately at redline (and hit it twice :-/)... oh well, it worked - I couldn't have done it without SMG II at this speed. What a great technology :-D

The long upper part of the Gotthardpass is almost sort of a motorway (as you can see on the picture). It was already getting dark and we raced uphill the Gotthard at tremendous speed. i don't really want to know how Leo took this picture where you can see Phil76's M Roadster flying up the Gotthard in Leo's rearview mirror :-O !!! But I think it is a very cool pic !!

Dragi and Leo were ahead pushing each other while I was behind Phil76's M Roadster which behaved very nervously, yet nicely controlled by the driver. It was very good fun and made me remember my M Roadster which I sold for the E46 M3 :-)

On the other side of the Gotthard I was struggling with my car... I don't know why ! I experienced problems with the grip on the front tires which forced me to slow it down a bit.

Coming from the Gotthard we went on the Motorway towards Zurich. I reckon it was funny for other people on the Motorway to be overtaken by 4 E46 M3's in a row followed by an M Roadster... and remember: 3 of the E46's were steel gray which made for a good "déjà vu" *LOL* ! :-D

Our last stop was in Sihlbrugg at the petrol station. The 5 of us who were left discussed the day with a huge grin on our faces. Clearly, this was a day to remember. It was perfect from every point of view !! I still have this crazy grin on my face when I'm thinking of this breathtaking day in the Swiss central Alps. IMO That's the place where "M" cars belong, where one can really experience what these machines are capable off ! Forget about flat straight roads ! That's not the place where theses cars show their true face. On steep pass roads with countless curves, however, BMW's "M" cars shine - these are real driver's cars ! :-D

From Sihlbrugg Leo got on his long way back to Nürnberg (Germany) while Dragi and I drove through the Sihlwald (Sihl forest) heading for Zurich.

Andreas aka M3Maniac
Please comment on my Guest Book if you have any thoughts on the subject. Thanks.