ESOC 2004 Seasons Opening Tour, Franche-Compté


The first tour of 2004 got underway in Delémont, Switzerland


I had the furthest trip of the bunch with 285 miles to get there. Thankfully the Autobahn was free of traffic so I actually got to Delémont ahead of time by 10 minutes. Total route time was 4 hours and 50 minutes.

Here the attendees of the ESOC 2004 Tour:
Watson - M3 E46 SMG II
MillM3 - Alpina B8
Dr. Nagano - M3 E46 CSL
Peakstop - M3 E46
Rocko - M3 E36 SMG I
Phil76 - Hartge V8 Roadster
Neo - 996 Turbo
S14Dokr - M3 E30
Tim - M3 E46
Aldi - M3 E46 SMG II
Svenson69 - M3 E46 SMG II
Beast - MQP
///Leo - M3 E46 SMG II
As in most cases the meeting place was a McDonald's.


The 3 pictures below show the first break we took. The fun was about to start from here



I thought I'd make some shots of the buildings of the town.


It was a joy driving behind S14 Dokr's E30 M3. What he lacked in HP he made up in weight.


At about 1 o'clock in the afternoon we all stopped for lunch in a fancy french restaurant. I had ...?


Another picture of the scenery while trying to keep behind the convoy.


Several more stops that we had to cool down the tires and ourselves.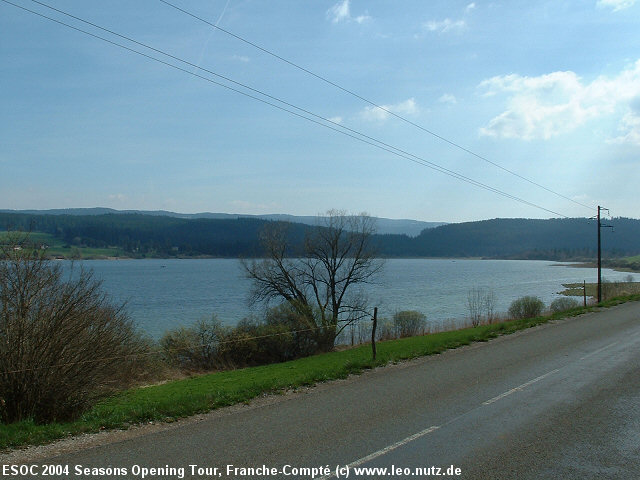 On our way to the dinner meeting place we met up with our padre Schlattau in his M3 cab and 20" mounted wheels.


I had a great day. As I was in the 2nd group I didn't get a chance to see the CSL and Porsche in action. I hope in the future I will have that privilege.

Here some stats:
- The tour was 240 miles.
- I drove a total of 830 miles in the 2 days.

Oh, before I forget: Here a short video. I had hoped to have a little fun on my way home but it was not to be.

///Leo
Please comment on my Guest Book if you have any thoughts on the subject. Thanks.